In this article we outline the initial steps to take when you need help, and information our support team will ask you when you contact us.
Wildnote works hard to deliver software that works smoothly. But sometimes we run into snags. The best way to help us help you and your team is to be prepared with the information we need to get to the solution as quickly as possible.
Gather information
You can submit a help ticket directly to support@wildnoteapp.com. You can also reach out during business hours through the chat icon on the web app, or call our support line at +1-805-664-0040.
Describe the problem the user encountered. Include as many details as possible leading up to the problem including error messages and any other indication of the problem.
Supply the user ID (email in Wildnote system), project, and company.
Identify the level of severity:
Critical - Data Loss or Work in the field has come to a stop and there is no known workaround
Severe - Work is hampered but there is a workaround
Annoyance - Work is moving forward, but the user is not happy with the interface
Let us know the deadline for your data.
Supply platform details
Mobile or Web
If mobile
iOS or Android?
If Web
Which browser?
Online vs offline status. Was the user connected to the internet? If so, did they have a solid connection?
Environment. Was the user outside in the elements such as heat, cold, or wetness?
You might first try the following:
Updating the Wildnote Version on your Mobile Device
One of the first steps the Wildnote support staff will ask you to do is to update the Wildnote version on your mobile device. The reason is that we want the most recent features and fixes installed. Here are the steps
Make sure you have a solid internet connection.
Sync all of the surveys and projects on your device. If you have a weak internet connection you may need to go to each project and sync the surveys one at a time.
Install the latest version from either the App Store for Apple devices or the Google Play Store for Android devices.
Execute a Sync All.
See if your problem is corrected.
And, to help us solve your issue, please enable Wildnote Survey Data Access
Sometimes it is helpful if the Wildnote support staff can view the data collected in your surveys. Wildnote customer service may ask you to temporarily enable data access in order to explore the problem more deeply. From the company, settings check the box labeled "Enable Wildnote Survey Data Access."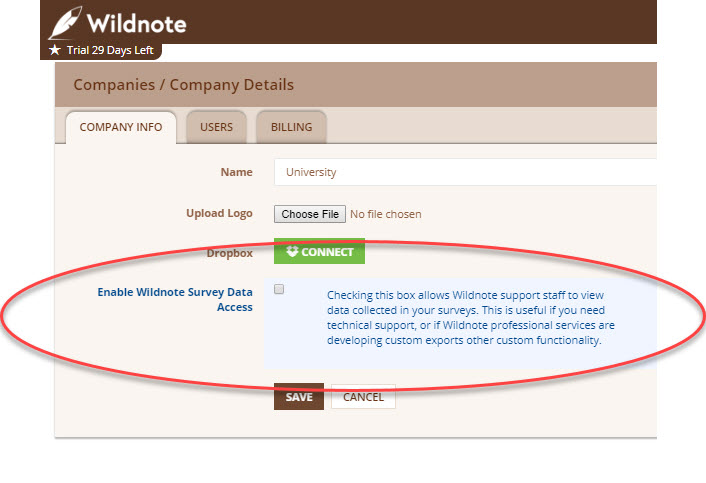 Note: Your data is yours and you should only share the data if you are comfortable. Wildnote will not use the data for their own purposes nor share the data with anyone else.